The Xtreme E Series
Extreme E is a radical new off-road racing series, founded by the same visionary behind Formula E, which will showcase electric SUVs and futuristic technologies in some of the world's most remote and challenging environments.
Could you repeat that please?
That is the opening statement on the Press Release for this hugely exciting event. I had heard about this some time ago. It has been in the works for a while and now it's here. It's basically a five-event global voyage utilising a sporting platform for the purpose of promoting electrification, environment and equality. We love it!
The series' goal is to highlight the impact of climate change in some of the world's most endangered environments,
it wants to promote the adoption of electric vehicles to pave the way for a lower carbon future, and it also wants to provide a world-first gender-equal motorsport platform! That's ALOT of great work and we can't wait to see how it goes!
The first sport to ever be built with a social purpose, Extreme E aims to minimise environmental impact while
maximising awareness. Races will take place in parts of the globe that have already been damaged or affected by climate change or human interference. The idea is to take fans deep into the heart of the most pressing issues
facing our planet's future.
Not only that, but Extreme E is also helping the car industry to develop future-facing technology using racing as a platform for road innovation, which accelerates change ten-fold.
The remote locations on Extreme E's inaugural schedule are perfect for its no-spectator policy, as so many racetracks around the world struggling to follow thoughtful public-health practices as coronavirus lingers. Locations include Senegal, Greenland, Brazil, and Argentina.
The event started earlier this month and just in case you are interested in the numbers watching this –  the first stage of the race has just finished in Saudi Arabia attracted 18 million views on Tok Tok!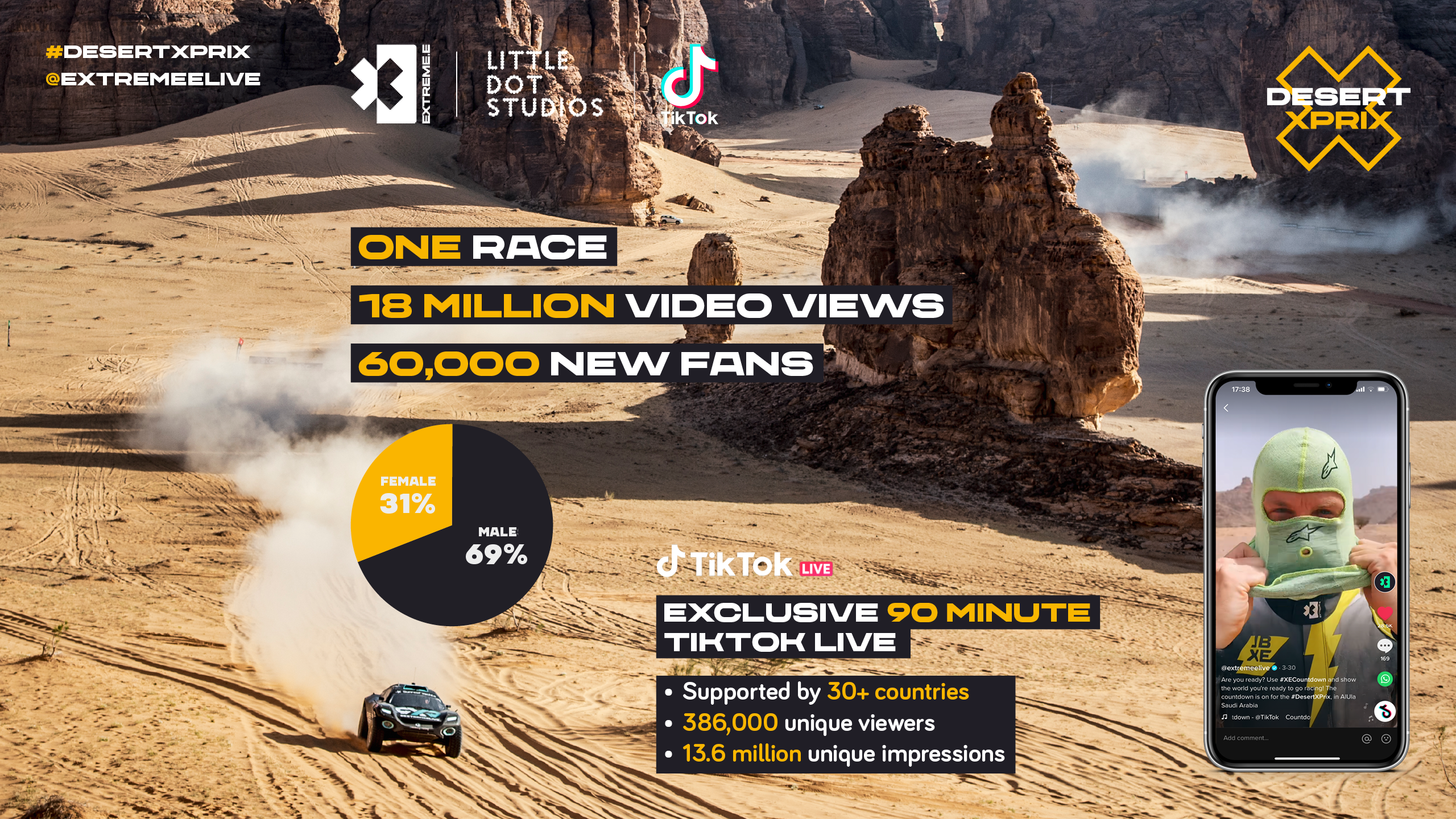 But, the reason for choosing these locations was also because the series organizers concluded that "depending on the type and location of events, fans can represent 20-50 percent of the total footprint of the event, once you consider their transport, food and beverage, and merchandising." So Extreme E deliberately wants no spectators at races "in a bid to reduce its carbon footprint." Remote coverage of the events will employ four drones, in-car cameras, and advanced technology to send footage back to one of its London offices which has become a centralized "UHD-ready" broadcast and media center. The all-electric SUV series, opens debuts April 4-5 with the Desert X Prix in Al'Ula.
Formula 1 champions Lewis Hamilton (X44), Nico Rosberg (Rosberg Xtreme Racing), and Jenson Button (JBXE) own three teams. U.S. teams are Andretti United (with Sweden's Timmy Hansen and England's Catie Munnings) and Segi TV Chip Ganassi Racing (with Americans Kyle LeDuc and Sara Price).
Each prix takes place in two days. Day 1 consists of two qualifying sessions. The field will be divided into two four-car groups in each session.
Series Founder Alejandro Agag had this welcome to the event's views across the world:
Welcome to Extreme E, the most ground-breaking adventure in sport, and most importantly, a sport with huge purpose. We have been planning this series for over two years, and it has already been a major journey, but now we are finally ready to go racing and start this adventure for real. This first Season of Extreme E is going to be like nothing seen before.

We have incredible teams backed by some of the biggest names in motorsport,– multiple world champions from rally, road and endurance – and five formidable locations, all either suffering or at risk of the effects of the climate crisis.
Of course, Extreme E is a motorsport, but it is also more than that. It symbolises the race for our planet, that we all need to play our part in. My vision is that we will use the power of sport to raise awareness of crucial issues, whilst showcasing the solutions we can all be part of as we promote a less carbonintensive world.
I'm delighted to have you all on this journey with us. The race is officially on – and everyone is invited. Alejandro Agag Founder & CEO –Extreme E
Thanks for stopping by…
You will find me here on Wasted.ie or on-air on Radio Nova

Saturday Soundtrack: Saturday evening, 6pm to 9pm